Introduction
Without music, our lives would have no tune. Still, with most music streaming services demanding premium subscriptions to enjoy top-class music, many people are missing out on the industry's offerings. But also, the ReVanced Music APK provides everyone with unlimited access to good music worldwide, whether you're a premium subscriber or not. Here, we'll discuss the glory that is the ReVanced Music App and all it has to offer you.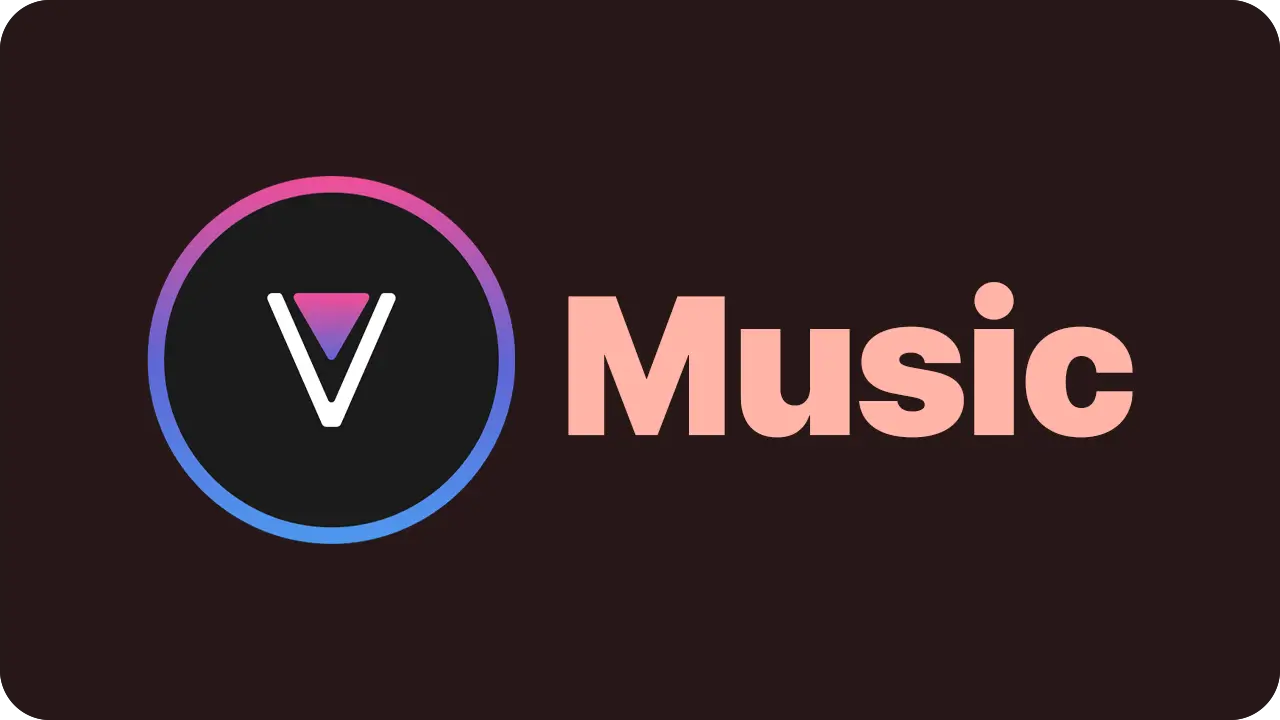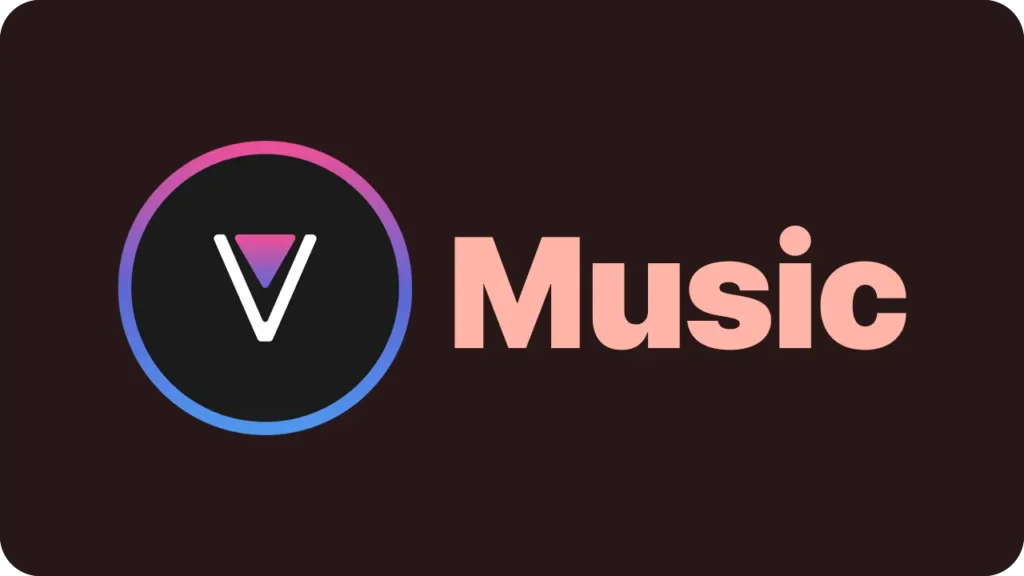 What is ReVanced Music?
The ReVanced Music is a modified version of YouTube Music and a suitable replacement for the fallen Vanced Music service. Here, you can stream all your favourite music content for free without a YouTube Music premium membership and enjoy all the VIP features, including an ad-free streaming experience.
Please note that the application might still malfunction for users in regions where the YouTube Music service isn't available, but do not fret because, with a simple VPN, you can start listening to your favourite songs as soon as possible. Download the latest version of the official ReVanced Music APK from the link provided below.
App Details
| | |
| --- | --- |
| Name | ReVanced Music |
| Developer | oSumAtrIX |
| Version | 6.28.52 |
| Size | 50 MB |
| Last updated | November 29, 2023 |
Download
While you can build this mod using ReVanced Manager, it also comes as a precompiled APK to simplify your access to quality music online. However, you still require MicroG to log in to your Google account unless you have a rooted Android device, as they use inbuilt Google Play Services. You can also access the Magisk Module provided in case you have a rooted device to enjoy all the benefits of ReVanced Music.
APK FILE
APK file will work on any Android device with the help of MicroG
---
Easy Installation
No technical knowledge is required.
MicroG must be installed before ReVanced files.
Please uninstall the old version before installing the below APK.
It is compiled by j-hc
The Extended compiled by NoName-exe
MAGISK MODULE
You must be rooted with Magisk Su when you want to install this module. There is no need to install MicroG as it uses Google Play services.
---
You must be a techie to know this procedure
It is not as easy as compared to APK installation
No MicroG needed
Zygisk Detach module should be installed to detach Playstore dependencies.
It is compiled by j-hc
The Extended compiled by NoName-exe
Features
The ReVanced Music app comes loaded with amazing features, including:
Podcasts
Reading is fun, but what's even more exciting is listening to podcasts. ReVanced Music offers current news, enjoy the humour that entails, and get motivated by the many inspiring stories told every day.
Background Playback
Choose your favorite playlist, exit the app, and compose an email to your employer asking for a raise while getting all the motivation needed from trap songs playing in the background. Multitasking at its best.
No Ads
YouTube Music has ads, and unless you purchase a premium subscription, you'll just have to endure the constant interruptions. Yet, ReVanced Music offers an amazing and affordable way out of this pickle. With the platform, you can stream music for free without ads.
High-quality audio
Stream your music with up 320 kbps of audio quality. This gives you a clear and serene listening experience for all your songs, playlists, and albums.
Lyrics
Get accurate and real-time lyrics for almost every song on the platform. This way, you can simply play your favourite tracks and sing along to the lyrics without messing up even once.
Explore
ReVanced Music not only provides you with popular music, but it also lets you discover new and exciting music content worldwide based on your frequent genres.
Video
Apart from streaming music, this app also offers videos for most songs and mixes. No need to open your YouTube application to watch the clip because you can easily switch between songs and videos.
Playlists
Along with the music, videos, and podcasts, you can also watch live performances that occurred in case you missed the main event.
Charts
The Billboards is one of the biggest charts you can find in any region. There are many other charts included for different genres, offering the top-rated tracks and albums for you to discover.
Video
Once you find your music taste on ReVanced Music, you can create your very own playlists and enjoy every bit of your music taste.
The algorithm also provides you with curated playlists once it learns your streaming habits.
These special playlists consist of most of the songs you like listening to often, along with similar tracks and new creations that you are sure to love.
How to Install ReVanced Music APK on Android?
APK can be installed on any Android device, irrespective of rooted and non-rooted Android. However, we only require MicroG to get your Google account.
Step 1. Download the MicroG APK file first.
Step 2. Now, Tap on the MicroG APK file and allow this source option.
Step 3. Tap on the Install and Done button.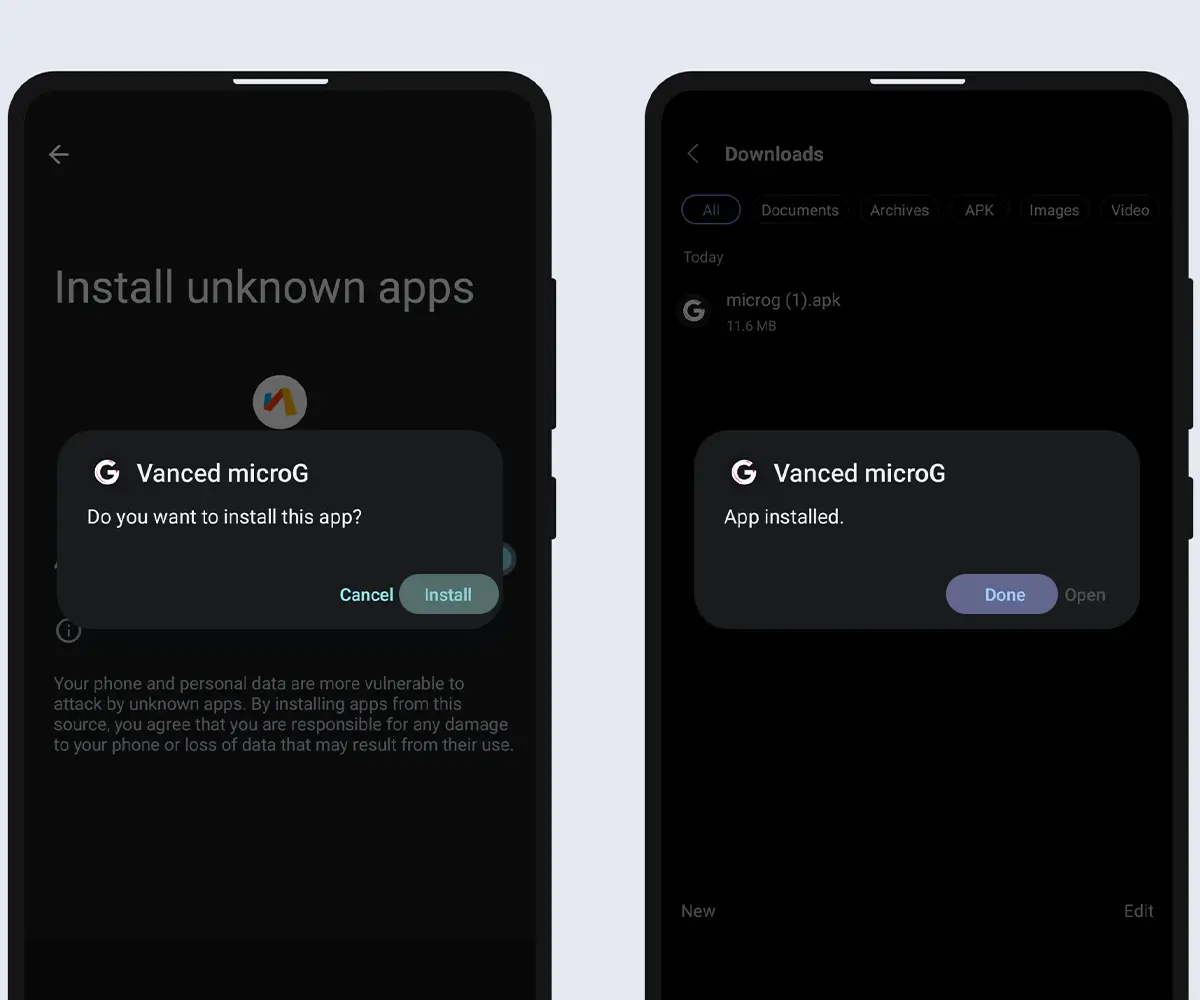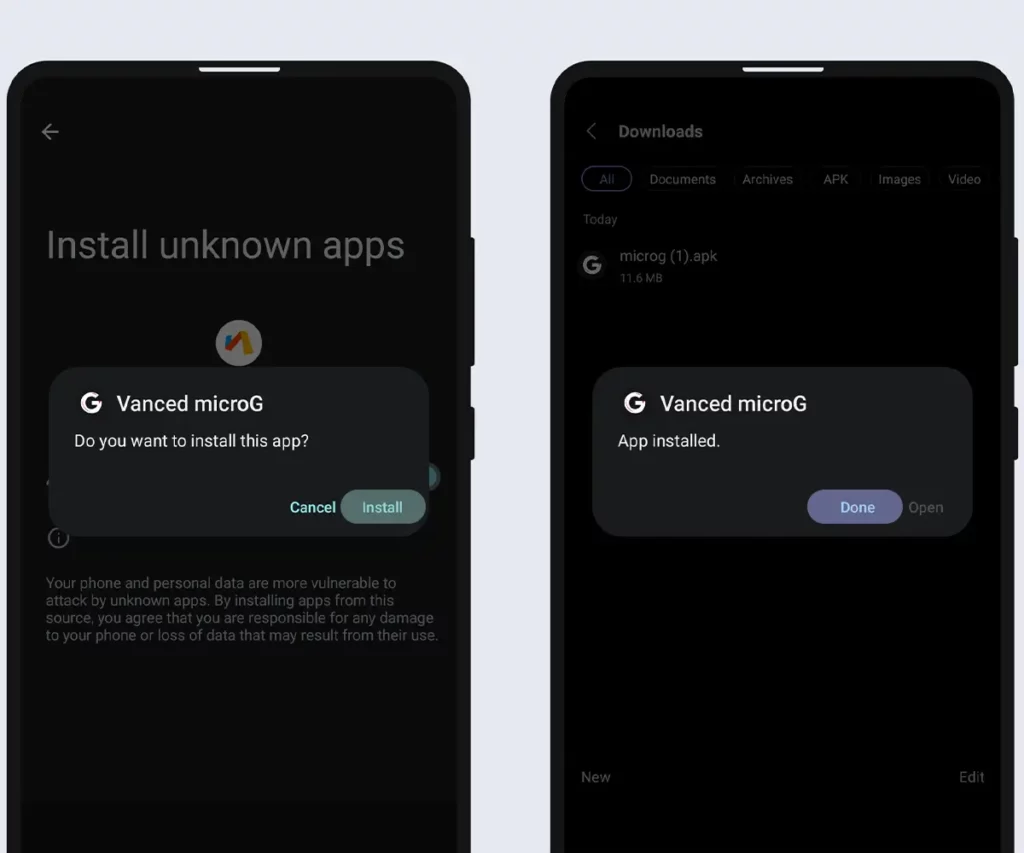 Step 4. Download the ReVanced Music APK file from the above.
Step 5. Now, Tap on the APK file.
Step 6. Tap on the Install.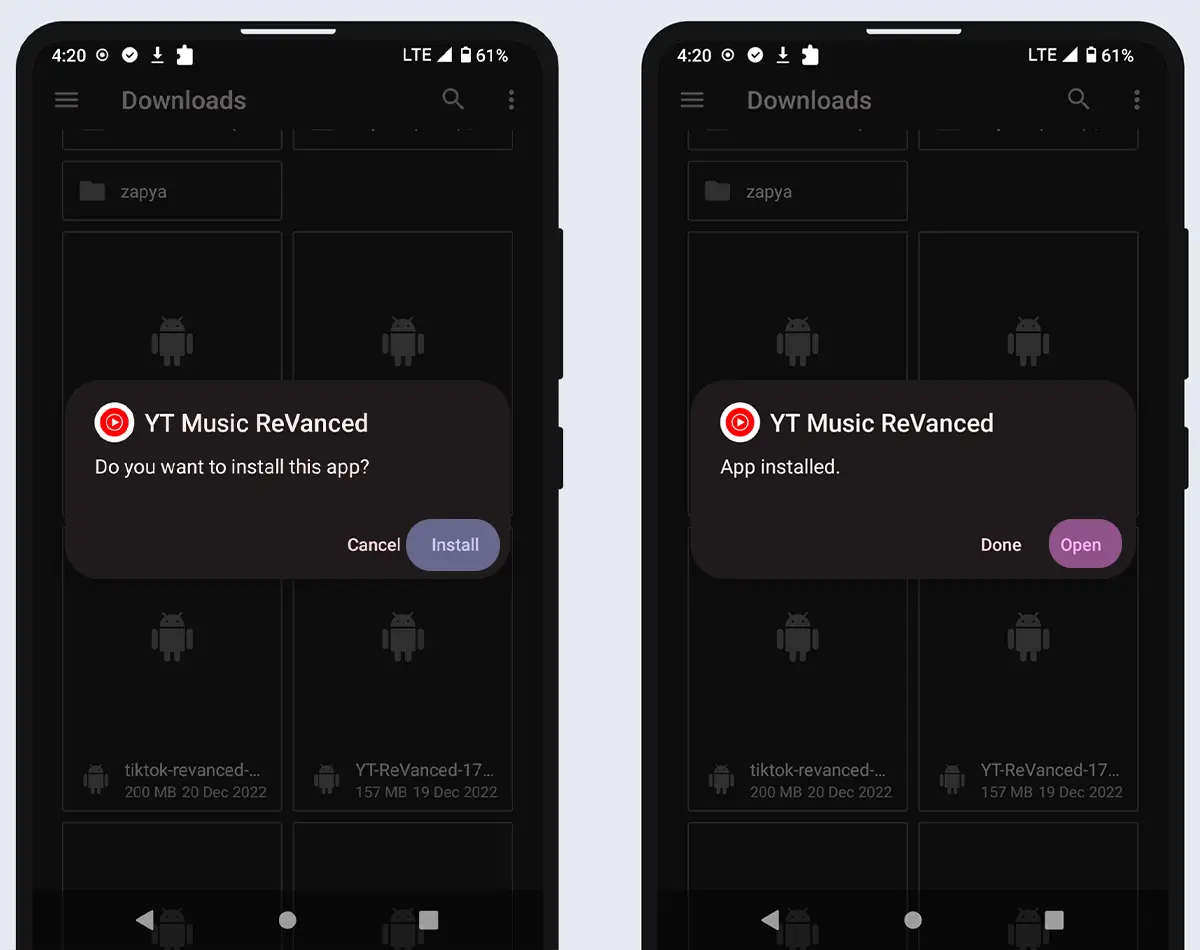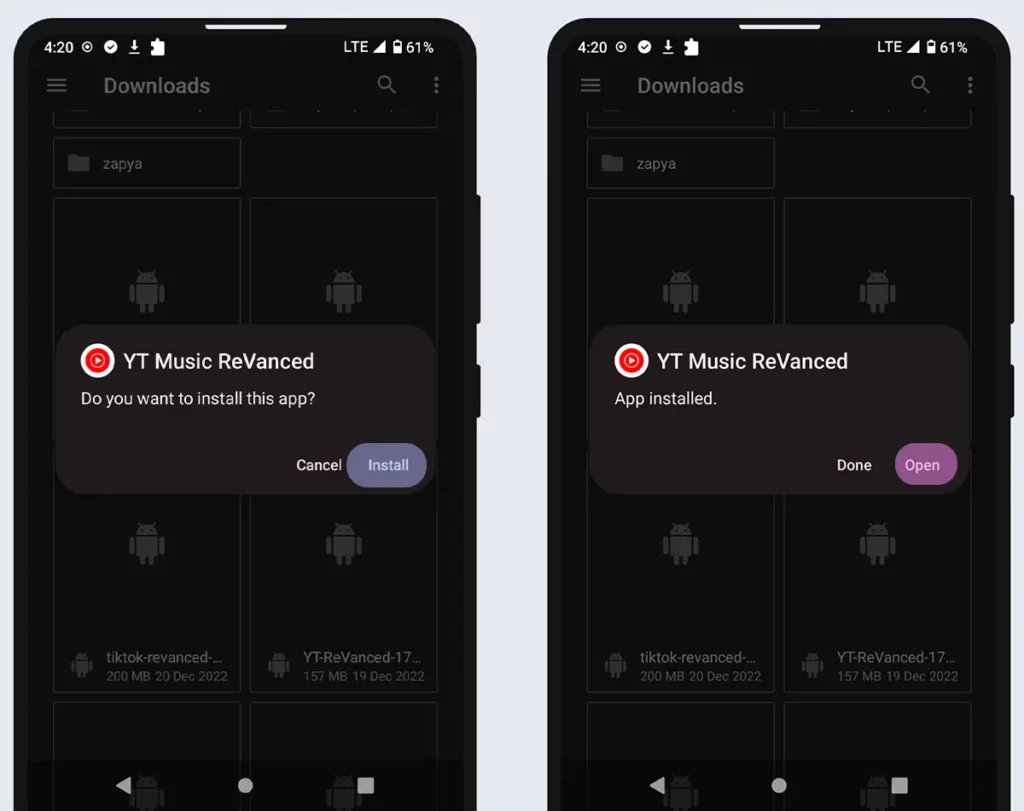 Step 7. Tap on the open.
Now, go to the account option and log in with Gmail to get your account on this client.
How to Install ReVanced Music Magisk Module on Rooted Android?
This Magisk Module lets you install the ReVanced Music at the system level. So, the App can have access to the Google Accounts that are associated with Google Play services.
Step 1. Download ReVanced Music Magisk Module from the above section.
Step 2. Open the Magisk app.
Step 3. Now, Tap on Modules, which is at the bottom right of the screen.
Step 4. Tap on the Install from Storage option.
Step 5. It will open your phone's storage. Please navigate to the downloaded .zip file and tap on it.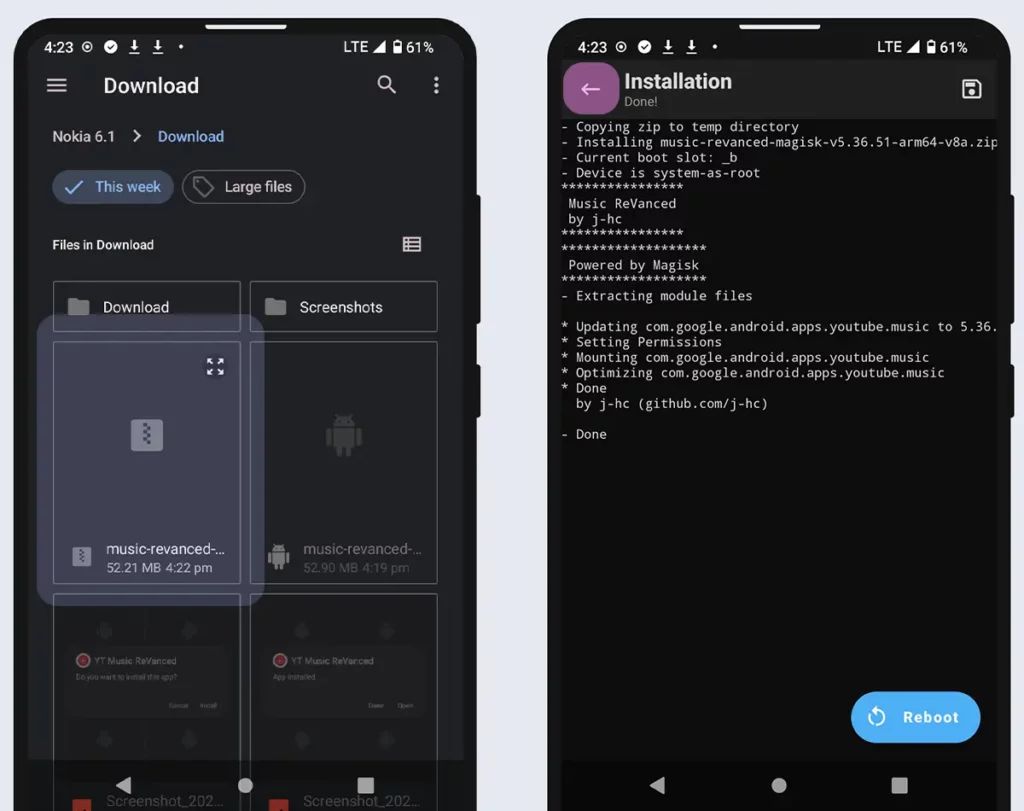 Step 6. Now, you can see the Flashing screen. Just wait until you see the reboot button.
Step 7. Go back.
Step 8. Download the ZigiskDetach Magisk Module and flash it by following steps 3 to 6.
Note: The Zygisk Detach module basically detaches YouTube/Music from the Google Play store. This avoids auto-updating. Recommended flashing this module.
Step 9. Reboot.
Final Words
Don't give any excuses for missing out on the latest releases just because you don't own a premium membership to YouTube Music or Spotify. With the ReVanced Music application, you can access the best and discover awesome music content worldwide, so download the APK today to get started on a free, new, and profound musical journey.