Introduction
YouTube Vanced is dead, and we will forever cherish the simplicity it created for all users. Still, we can't sit and wait for its revival when many other suitable alternatives are offering similar functions and probably even better user experiences.
One of the most-matured Vanced alternatives is the YouTube ReVanced APK, the official replacement. It offers all YouTube Vanced features and impressive patches to maintain the Vanced legacy. This post will walk you through everything you need to know about the YouTube ReVanced App.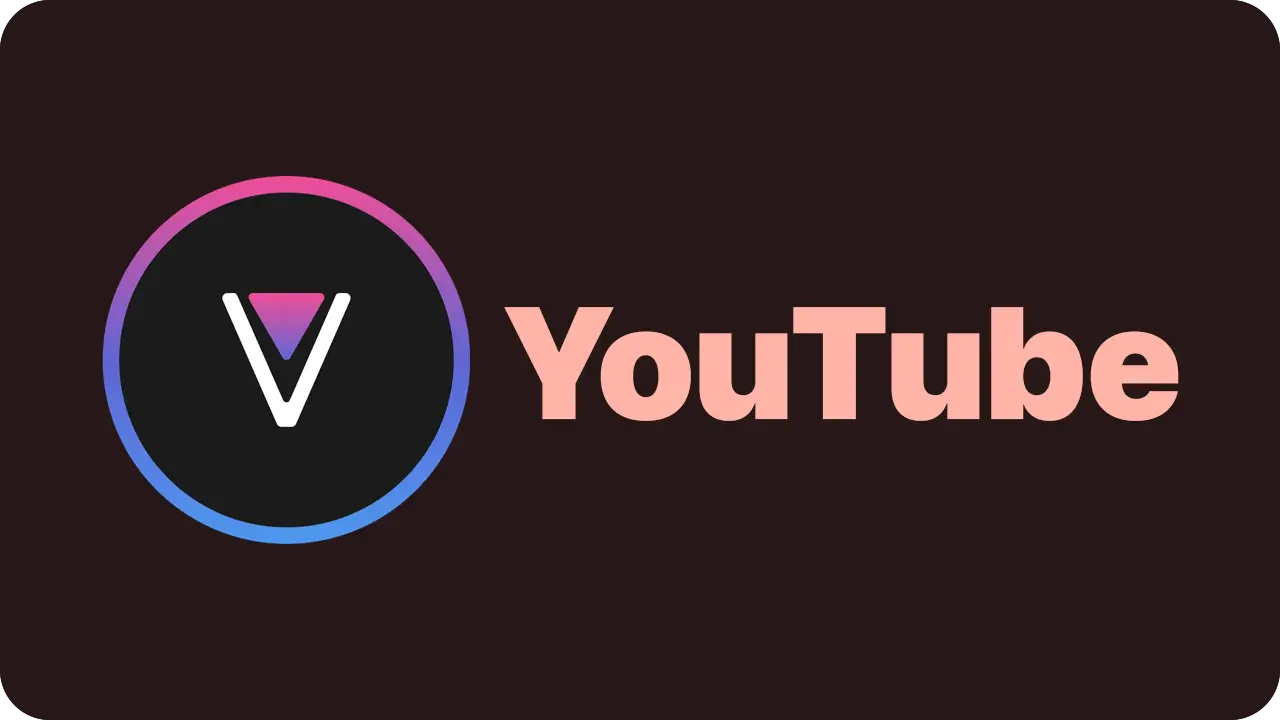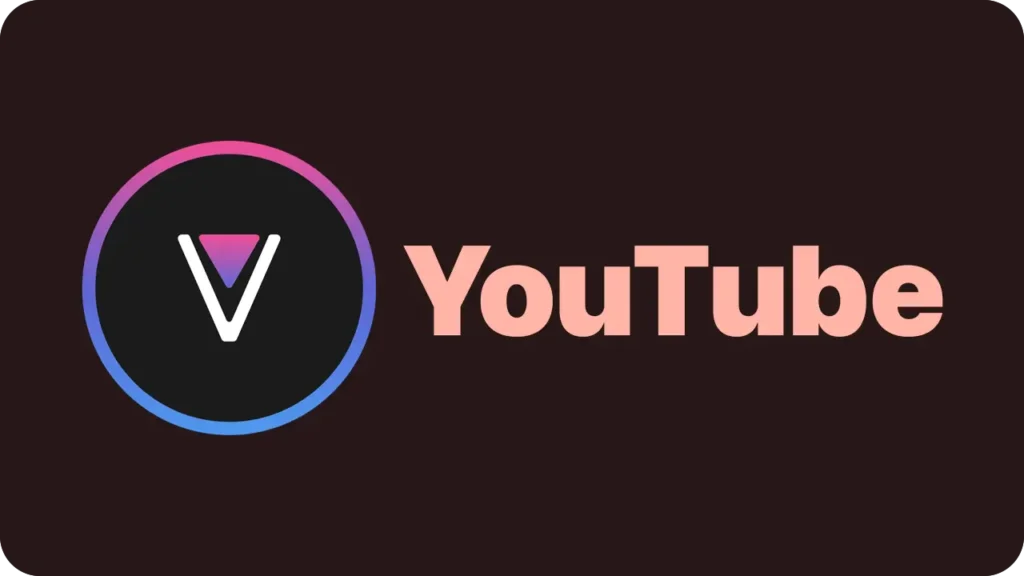 What is YouTube ReVanced?
YouTube ReVanced is a free customized YouTube client which offers exceptional features such as Background Playback, Return YouTube Dislike, SponsorBlock and No Ads.
The project also consists of ReVanced Music, which lets users stream their ideal music genre with all the benefits of YouTube Music Premium. However, ReVanced doesn't provide direct installable APKs to users; instead, it offers the ReVanced Manager app, which helps users build their own app.
App Details
| | |
| --- | --- |
| Name | ReVanced YouTube |
| Size | 97 MB |
| Version | 18.46.43 |
| Developer | oSumAtrIX |
| Android | 8.0+ |
| Updated on | December 03, 2023 |
Download
While there are many other Vanced alternatives, YouTube ReVanced APK has shown enough potential by providing users with basic YouTube Premium features and an incredible streaming experience with the various patches included.
You would also need the Magisk framework to install the module on your rooted Android device successfully.
APK FILE
APK file will work on any Android device with the help of MicroG
---
Easy Installation
No technical knowledge is required.
MicroG must be installed before ReVanced files.
If you receive an error, please uninstall the old version before installing the below APK.
The Extended compiled by NoName-exe
The General compiled by j-hc
MAGISK MODULE
You must be rooted with Magisk Su when installing this module. There is no need to install MicroG as it uses Google Play services.
---
You must be a techie to know this procedure
It is not as easy as APK installation
No MicroG needed
Zygisk Detach module should be installed to detach playstore dependencies.
The Extended compiled by NoName-exe
The General compiled by j-hc
Note:
Suppose you don't want to use our apks. In that case, you can follow the procedure below, where we explained the necessary builder to create your official version of the YouTube ReVanced APK and others. or Download the latest version of the ReVanced Manager to create your app today.
How did we build this YouTube ReVanced APK?
Building this ReVanced APK isn't as easy as downloading and installing the official APK directly onto your Android device, but you can follow a few easy steps to get it done fast. We used ReVanced Builder by reisxd to build our own version of ReVanced APK.
Firstly, you need to download Termux, an Android terminal emulator and Linux environment app that functions directly without rooting your device. You can download the latest version of Termux from F-Droid and run these commands:
curl -sLo revanced-builder.sh https://raw.githubusercontent.com/reisxd/revanced-builder/main/android-interface.sh
chmod +x revanced-builder.sh
./revanced-builder.sh
Once the builder is incorporated, it should start installing on your device. You must then select the app you'd like to patch, YouTube in this case, and wait for the software to download dependencies and, finally, the application itself.
You can find the APK files in the phone's internal storage.
If you want to run it in the future, just run ./revanced-builder.sh it again.
For updating, use ./revanced-builder.sh update and for reinstalling, use ./revanced-builder.sh reinstall (they both do different things).
If you want to see other commands, use ./revanced-builder.sh help
Features
Works on Both Root and Non-Root Devices
By following a few simple steps, you can install YouTube ReVanced on both root and non-root devices. Still, many Android users gave up on the idea of building their own app.
You can't blame them – extracting these files and building your own app doesn't sound as fun, especially if you're used to downloading and installing the APK directly. Also, many users conclude that such processes are specifically meant for root devices, which isn't the case with our precompiled app and magisk module.
Old Layout
Some people despise change, no matter how minor. I don't blame them because it can be hard to adjust to the new alterations. As a result, YouTube ReVanced allows you to choose an old layout as long as it is compatible with your device. These options include 240p, 480p, 1080p, 1440p, and more.
Disabled Ads
ReVanced lets users disable general and video ads from YouTube, allowing users to watch their content without interruptions. I'm aware of the significant role that these ads play, especially for the content creators.
However, I can't help but get annoyed every time I'm forced to watch an unskippable video ad for my video to continue playing. Also, what if I needed emergency information from a video, but YouTube surprised me with 3 ads tailored towards nothing relevant to my search? Imagine how inconvenient that would be.
Background Play
You can watch a YouTube video and browse through other apps simultaneously without splitting your screen. It's beneficial for users who want to focus on other tasks like browsing and chatting while watching their video on a minimized floating screen in the background.
This feature is incredibly convenient for podcast fans like me whenever I have work to handle on my phone, but I don't want to miss out on any interesting information from these sessions. It also saves data whenever you have chores to do and can only listen to the audio of videos.
Supports MicroG
MicroG allows you to log into your Google account. This feature allows users to access all their accounts, channels, liked videos, or favorite creators' content without using the YouTube application. Still, you'll need to build YouTube ReVanced and download MicroG separately.
Custom-Branding
You can now change the YouTube launcher icon and name to your choice in the ReVanced app. Custom-branding redefines open-source customization by giving users full control over the interface. This feature also makes you proud of the changes made and eager to open the app every time just to glimpse your own creation.
Premium Heading
The premium branding can be displayed on the ReVanced app for an authentic look. The benefit for users is that nobody can differentiate between ReVanced and the original YouTube Premium subscription unless you customize the homepage's branding.
Hide Creator's watermark
A branding watermark lets creators add a logo to all the videos on their channel. With the YouTube ReVanced App, you can automatically hide this branded image from all videos, giving you a full content display without the overlaying logo.
Sponsorblock
YouTube ReVanced lets you skip sponsored segments on every video on the platform. SponsorBlock feature helps reduce time wasted showing off the endorsements, sponsorships, subscription begging, and more before the relevant content starts.
Return YouTube Dislike
(Return YouTube Dislike) RYD integration on YouTube ReVanced to restore the dislike view count. This helps users know the public's opinion on a video and determine whether the video is worth their streaming time.
Autorepeat-By-Default
You can now make videos auto-repeat by default whenever they end. This saves users the effort required to walk over to their phones and manually restart the videos. Also, whenever you enjoy good music while handling other tasks simultaneously, you don't have to put your chores aside just to hear the song again.
HDR-Auto-Brightness
This App can play HDR videos in auto-brightness mode supported by your device. This mode gives streamers the best brightness settings for high dynamic range videos, resulting in the optimum streaming experience.
Swipe Controls
ReVanced comes with swipe gestures for brightness and volume during fullscreen playback. Instead of manually increasing the volume of your phone, you can swipe up or down on each side of the screen to change the brightness and volume of your current video.
Custom-Playback-Speed
The normal playback speed ranges from 0.5X to 1.5X. However, you can change the default playback speed options and customize them to your preferred settings with YouTube ReVanced.
Amoled
Amoled gives your YouTube ReVanced app a pitch-black theme like the dark mode in the original. The theme consumes less power while displaying dark backgrounds and reduces the light emitted by the device to protect the users' eyes from glare and relieve eye strain.
Disable-Shorts-Button
This mode helps you disable YouTube shorts from your app. Sometimes, I'd need a break from spending hours on end watching shorts like I do TikTok videos, and this feature is the perfect solution. Now, you can browse through relevant videos without diverting all your attention to the shorts.
How to Install ReVanced YouTube APK on Android?
APK can be installed on any Android device, irrespective of rooted and non-rooted Android. However, we only require MicroG to get your Google account.
Step 1. Download the MicroG APK file first.
Step 2. Now, Tap on the MicroG APK file and allow this source option.
Step 3. Tap on the install and done button.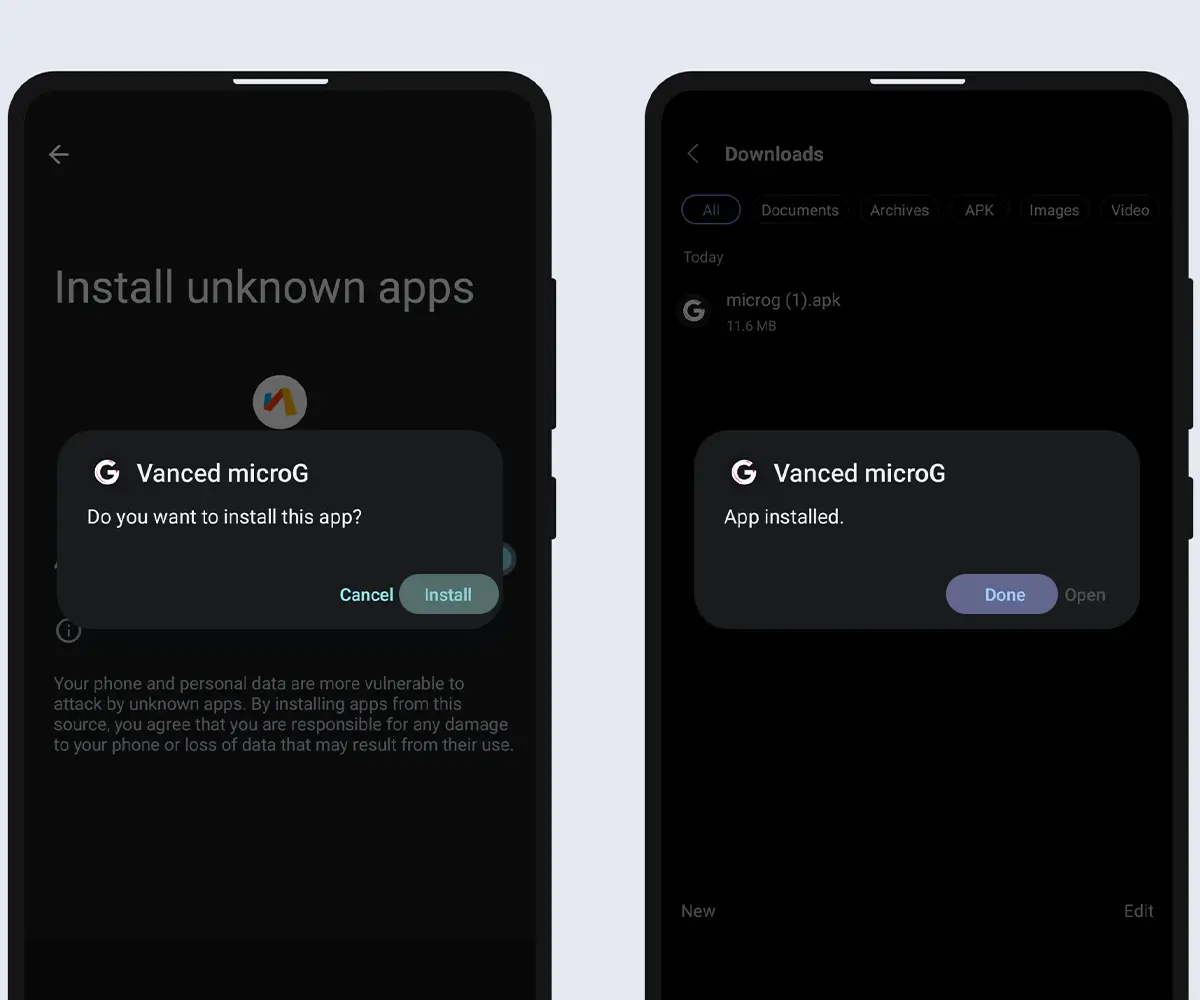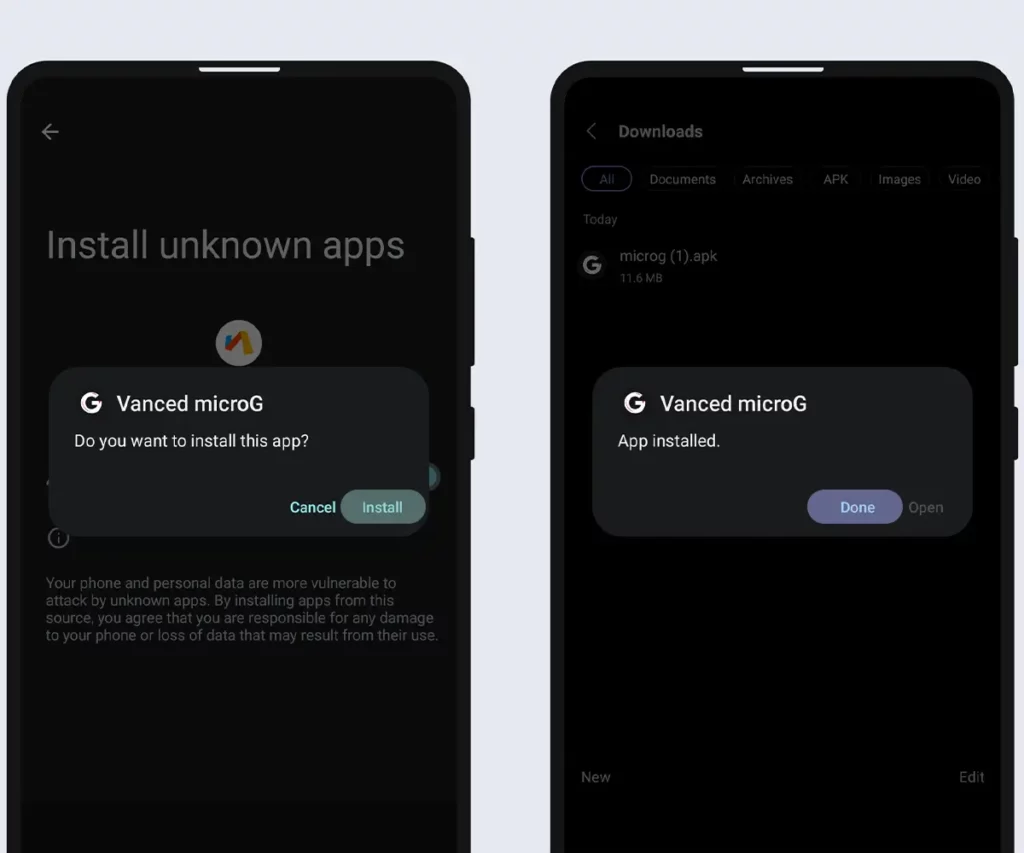 Step 4. Download YouTube ReVanced APK file from the above.
Step 5. Now, Tap on the APK file.
Step 6. Tap on the Install.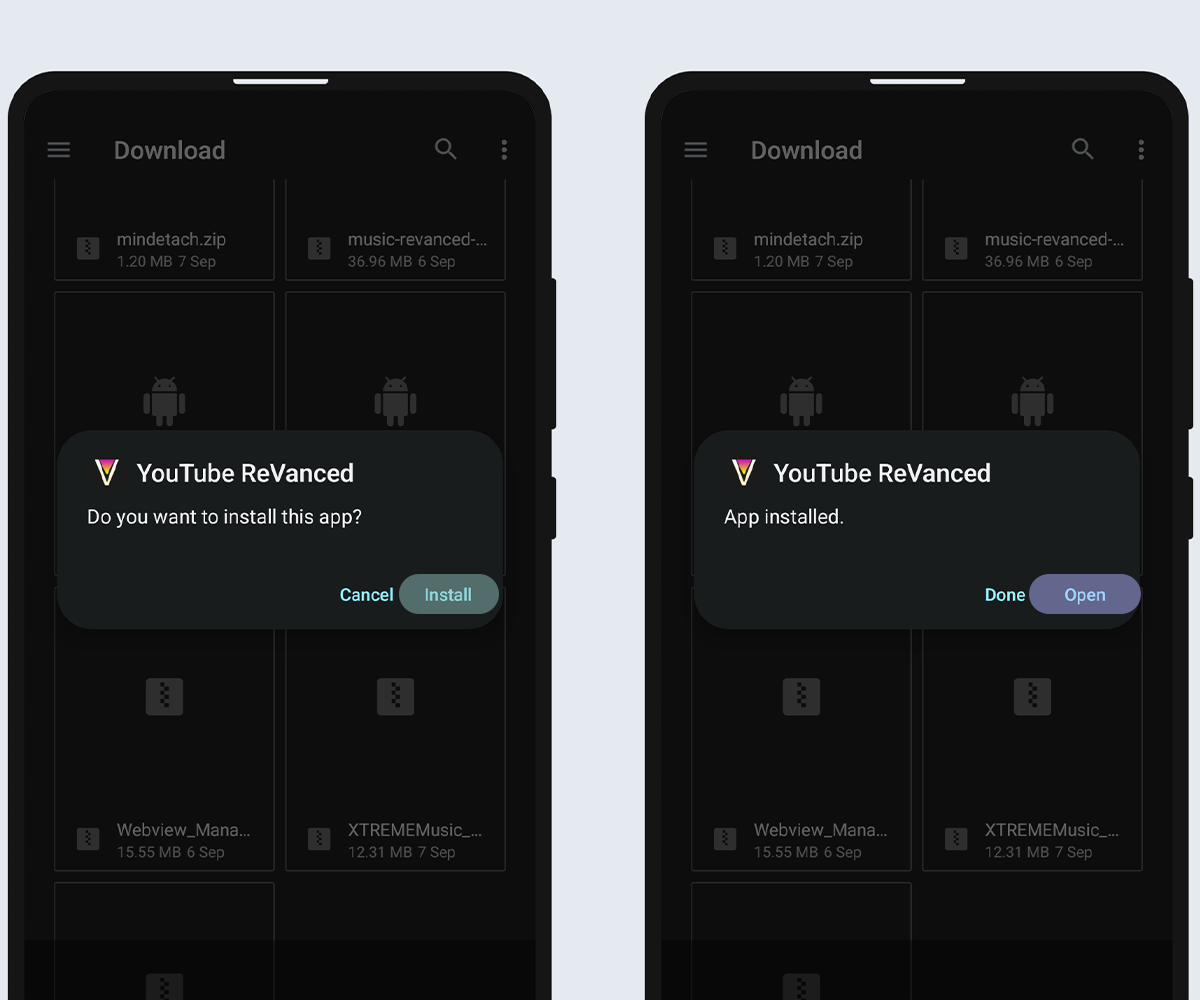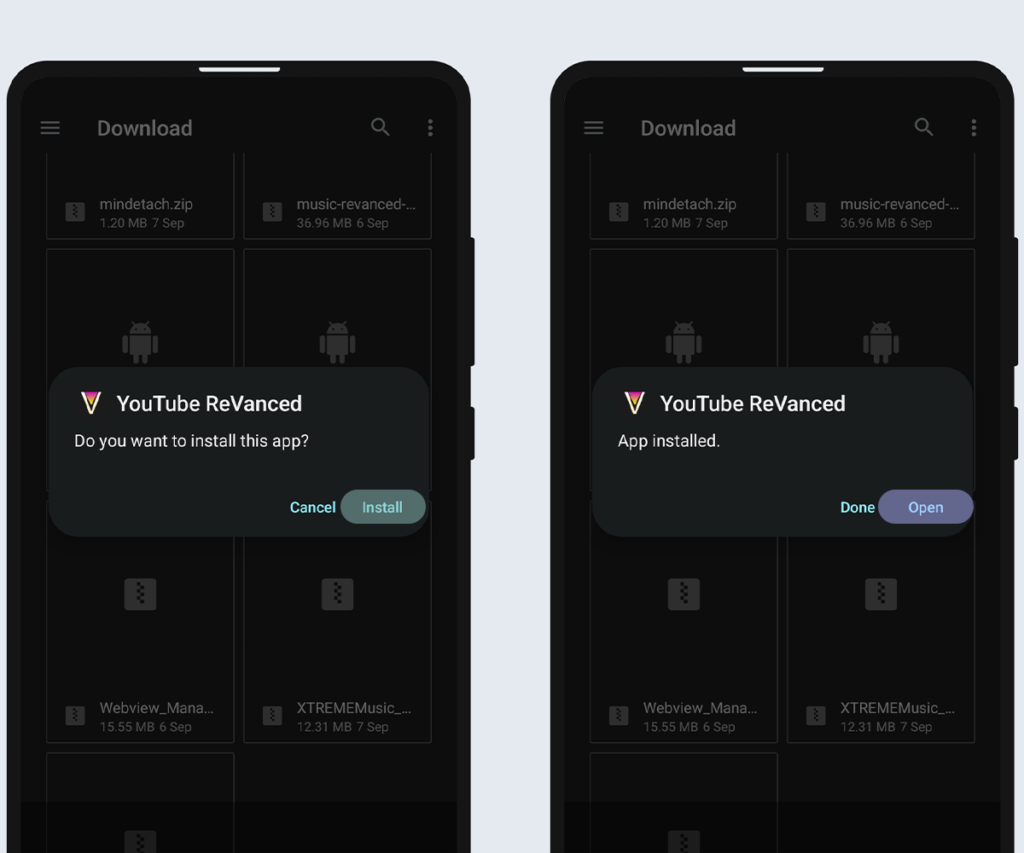 Step 7. Tap on the open.
Now, go to the account option and log in with Gmail to get your account on this client.
How to Install YouTube ReVanced Magisk Module on Rooted Android?
This Magisk Module lets you install YouTube ReVanced at the system level. So, the App can have access to the Google Accounts that are associated with Google Play services.
Step 1. Download YouTube ReVanced Magisk Module from the above section.
Step 2. Open the Magisk app.
Step 3. Now, Tap on Modules, which is at the bottom right of the screen.
Step 4. Tap on the Install from Storage option.
Step 5. It will open your phone's storage. Please navigate to the downloaded .zip file and tap on it.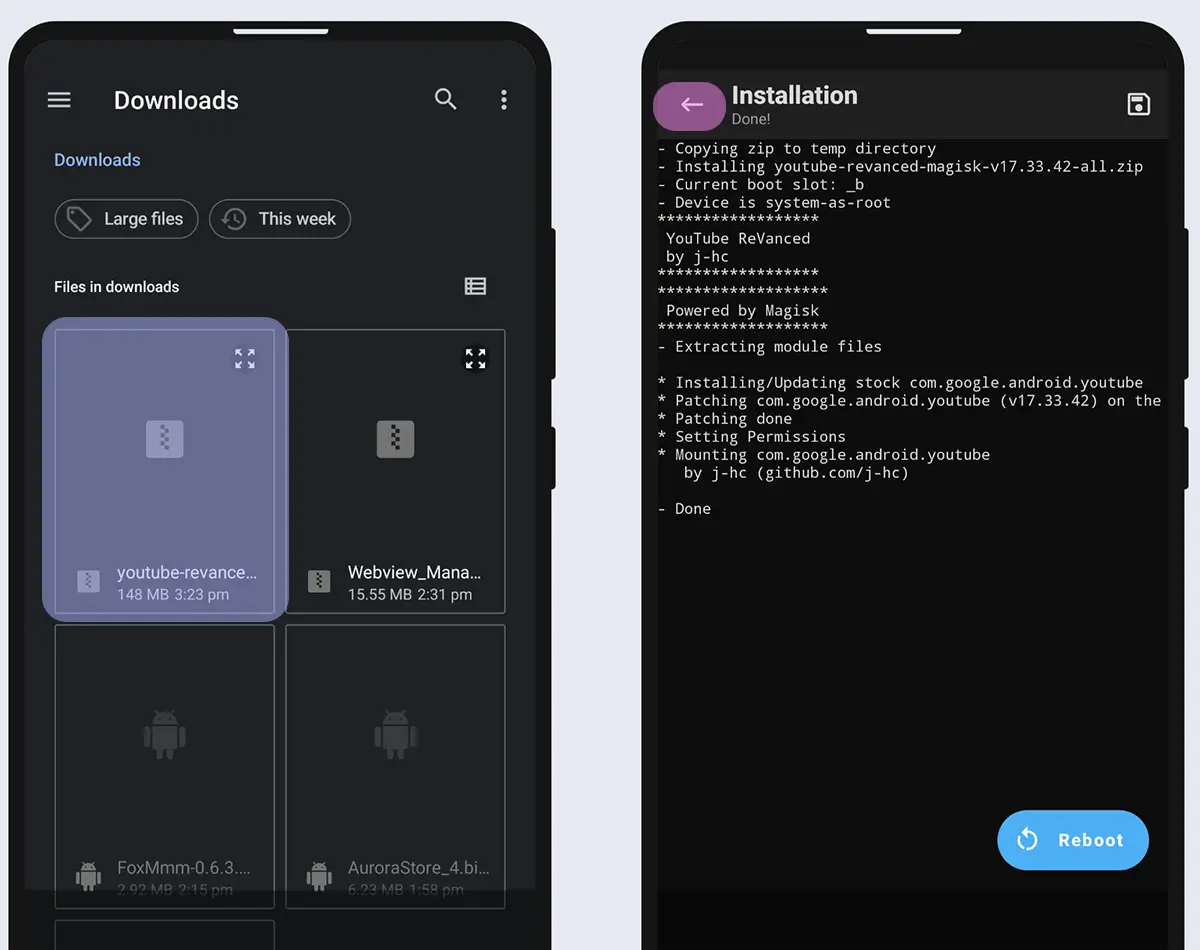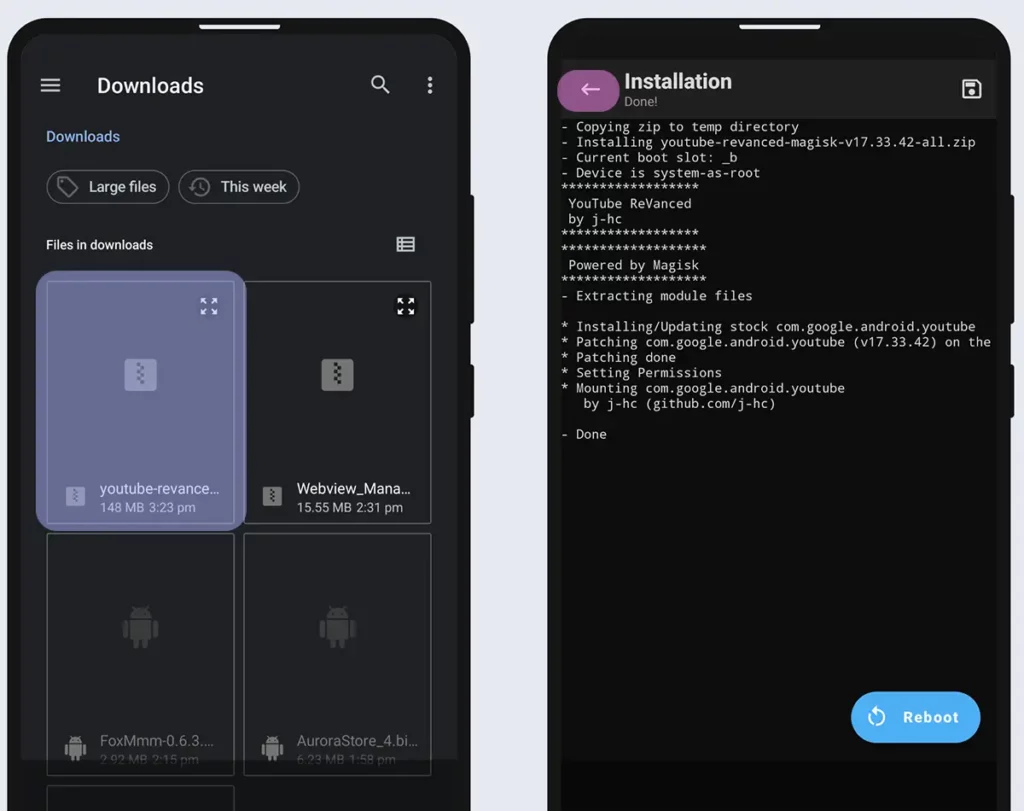 Step 6. Now, you can see the Flashing screen. Just wait until you see the reboot button.
Step 7. Go back.
Step 8. Download Zygisk Detach Magisk Module and flash it by following steps 3 to 6.
Zygisk Detach module basically detaches YouTube/Music from the Google Play store. This avoids auto-updating. We recommend flashing this module.
Step 9. Reboot.
Final Words
While building an app sounds exhausting, we recommend downloading our safe YouTube ReVanced APK; with this app installed on your device, you're never going back to the old, restricted ways of basic subscriptions.